OAK Celebrates Spirit Airlines' Inaugural Flight to New York/Newark | Oakland International Airport – San Francisco Bay Area, California, United States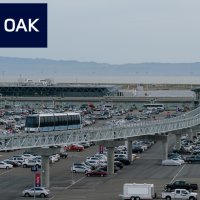 Last week, Spirit Airlines launched new service between Oakland International Airport and New York/Newark. The route uses Spirit's new Airbus A320 NEO jetliners with seating for 182 passengers, including 8 Big Front seats.
Eastbound – Daily: Departure OAK 8:45 a.m. – Arrival EWR 5:05 p.m.
Westbound – daily: Departure EWR 5:57 p.m. – Arrival OAK 9:07 p.m.
"We are excited to launch the only nonstop service between the New York metro area and the East Bay, providing a great value travel option that makes it easier for customers to travel across the country," said John Kirby. , Vice President of Network Planning at Spirit Airlines. "Spirit's low fares combined with our new cabin interiors and high-speed Wi-Fi make this trans-con route affordable and enjoyable for travelers."
New York City/Newark marks the eighth nonstop route that Spirit now offers to OAK. Others include Las Vegas, Los Angeles, Orange County, Chicago, Houston, Philadelphia, and San Diego.
"We are very pleased that the East Bay once again has nonstop service to the New York metro area." said Bryant L. Francis, director of aviation at the Port of Oakland. "We encourage our community to use this efficient new transcontinental service offered by our partner Spirit Airlines."
Flights are available for sale at www.spirit.com.