New Jersey mother 'horrified' after autopsy shows son's treatment during Navy SEAL 'Hell Week' training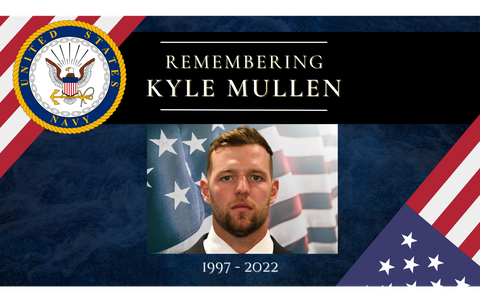 (Tribune News Service) – Painful reminders of her son's death came regularly, Regina Mullen said Sunday.
Kyle Mullen, who died on February 4 after completing the grueling first phase of US Navy SEAL training called "Hell Week", was supposed to witness his brother TJ's June wedding. A photo of Kyle was installed at the ceremony instead.
A street was dedicated to the 24-year-old in Manalapan earlier this month. Fit, his mother Regina said, as he was dedicated to his community.
And last Saturday, Regina – a nurse who lives in the township – opened her mail to find an autopsy report from the armed forces medical examiner, saying her son died of pneumonia while training at Naval Base Coronado, California.
"(Kyle) had completed the week from hell and was being cared for by non-medical personnel to help meet his basic needs," reads a copy of the autopsy report provided to NJ Advance Media by the Mullen's mother. "He was in a wheelchair most of the time, unable to stand and walk on his own. He allegedly coughed up/spit up a red-tinged liquid that nearly filled a 36 oz. sports drink bottle.
Mullen died of "acute pneumonia due to Streptococcus pyogenes," according to the May 2 report by U.S. Army Regional Medical Examiner Wendy Warren. Streptococcus pyogenes is "a major human-specific bacterial pathogen" that can be mild or life-threatening depending on the case, according to the National Library of Medicine online.
Mullen's mother said the Army autopsy merely served as confirmation of a private autopsy for which she had already paid $6,000 a few weeks prior. The Army medical examiner also confirmed what she suspected in a toxicology report – which came back negative for drugs.
The Navy did not immediately provide comment on Sunday.
"We express our deepest condolences to Seaman Mullen's family for their loss," Rear Admiral HW Howard III, commander of Naval Special Warfare Command, previously said. "We are giving whatever support we can to the Mullen family and Kyle's classmates."
Regina Mullen said she was unable to get her son's medical diagnosis immediately after his "Hell Week" training, which lasted 5 and a half days. She also wants to know why discipline was not distributed to the instructors and commander in charge at the time of her son's death.
"I want them all in jail…never able to work in the Navy. They should be in jail," she said. "It's like murder to me and nobody seems to care, but I do and I'm not going to stop. My whole community cares.
Signs that her son was in pain during training and had not received proper medical attention emerged before February 4, she said.
Last August, Kyle discussed the abuse during rigorous training drills, she said.
A few months later, he FaceTimed her.
"It was in January, the second week. He was all bloated. Her face was swollen. He had coughed up blood," Mullen's mother said.
A month later, he was told that once "hell week" started, he wouldn't have access to his phone until the training was over.
"He called me the day he (ended) Hell Week, and I overheard him on the phone. I was yelling at him to FaceTime me. 'You don't look good,' I said. "What's wrong," she recalled. "He said, 'No, Mom, I'm fine. I love you,' and he hung up the phone.
After the training, according to the medical examiner's report, "One of the other SEAL candidates had sought medical attention because he felt like he couldn't breathe. When emergency personnel were called for this sailor, (Mullen) became unresponsive. When the ambulance crew arrived, they turned their attention to Seaman Mullen and transported him to hospital, where he was later pronounced dead.
Regina Mullen said she was told her son actually died in Navy barracks in the arms of a 19-year-old non-medical sailor.
She is currently awaiting the results of an investigation by the Naval Criminal Investigative Service. NCIS did not immediately respond when asked for comment on Sunday.
Kyle Mullen was a linebacker and tight end at Manalapan and led the Braves to a Group V state title from Central Jersey in 2014, and was named the team's most valuable player. He also won six football and basketball letters, according to his Yale biography. He was on the honor roll and a member of the National Honor Society.
In addition to the autopsy report, his mother received condolences from President Joe Biden earlier this month.
"This certificate is bestowed by a grateful nation in recognition of dedicated and selfless dedication to service to our country in the armed forces of the United States," reads a Biden card honoring Kyle Felix Mullen.
Regina Mullen said she was disappointed to have received it more than four months after her son's death.
Going forward, she wants those responsible for her son's death to be disciplined and the Navy's "Hell Week" training to be continuously monitored, she said.
"Kyle was happy, lucky. He loved to exercise and be competitive,' she said, noting that her son volunteers at a nearby recreation center as a counselor, lectures at a local school and is his best friend. . "We are horrified by the way he was treated. It's disgusting. It is a shame for the country. »
Donate to the family of Kyle Mullen Click here.
©2022 Advance Local Media LLC.
Visit nj.com.
Distributed by Content Agency Tribune, LLC.