Melba Wilson Brings Her Signature Harlem Restaurant to Newark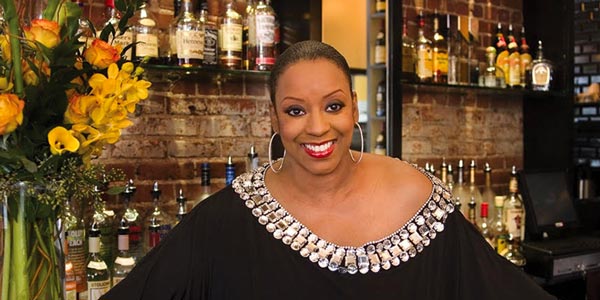 NEWS | CHARACTERISTICS | PREVIEWS | EVENTS
originally published: 03/10/2022
(NEWARK, NJ) — On March 9, 2022, Mayor Ras J. Baraka and Melba Wilson announced that the restaurateur will bring her signature Melba Restaurant in downtown Newark, with Melba's 550 opening at 550 Broad Street later this year.
The new restaurant will occupy the former First National State Bank space in the historic building, with its own brand new entrance on Broad Street. The restaurant will offer seating in the original bank vault, providing a unique dining experience. Melba's will also have a separate café with a take-out window on Broad Street. Details on the restaurant's menu and design are still evolving, but Melba said they hope to open the restaurant in late 2022.
"For nearly two decades, people near and far have traveled just to experience Melba's world-class cuisine and impeccable customer service and now we will have that opportunity here in Newark, New Jersey. As Mayor, I am honored and proud to have Melba Wilson bring her exquisite, contemporary style of soul food to our great city," said Mayor Baraka. "This new dining experience and the significance of its location in the Harriet Tubman Square neighborhood is a historic statement. and it will add great value to our residents and to the future growth of our city. Thanks to Fidelco Realty Group, we will embark on this new culinary journey together, it will only enhance the vibrancy and flavor of Newark. I am more than confident that this new location will be a destination of choice for residents and visitors to create lasting memories and enjoy foods that will nourish their bodies and comfort their souls.
Melba Wilson is the founder of her eponymous restaurant Melba's in Harlem, New York's premier comfort food destination. Since 2005, Melba's has combined excellent cuisine with outstanding service and the warmth that made Melba Wilson a renowned restaurateur.
"I eat fried chicken, you eat fried chicken and from there, we're going to build a unique experience that brings everyone together – we're going to combine our minds and change lives," said Melba Wilson. "This is a very exciting time for us; a Jewish man from Newark and a black woman from Harlem show that we all have a lot in common through our love of food, family and community. The new restaurant will be in Newark , of Newark, and for Newark."
Advertise with New Jersey Stage for $50-$100 per month, click here for more info
---
550 Broad Street is owned and operated by Fidelco Realty Group, the developer of 1 Washington Park, 494 Broad Street, 15 James Street – Audible's Innovation Cathedral, RockPlaza Lofts and other Newark's flagship commercial and residential revival projects. The building is undergoing extensive renovations and is positioning itself as a business hub and dining destination for the neighborhood.
"The addition of Melba's to the list of tenants at 550 Broad speaks volumes about the importance of this building to the Harriet Tubman Square neighborhood," said Marc E. Berson, president of Fidelco Realty Group. "From the moment we met Melba I knew we were going to do something special together. We are in the process of renovating the lobby of this historic building and building a new main entrance from Broad Street which will line with the back of the building to create a neighborhood public thoroughfare."
Architect David Rockwell of the award-winning Rockwell Group will help design the new restaurant, ensuring the space is truly one of a kind.
"Hospitality is about creating an inviting space where food can be shared with family and friends," said Mr. Rockwell, Founder and Chairman of The Rockwell Group. "Melba and I have been dear friends for many years. She has been an inspiration to me and many others during the pandemic as she has advocated for outdoor dining and the central place of restaurants in our neighborhoods. Melba understands the importance of bringing people together over a meal. and the sense of community that restaurants create. The Newark location of Restaurant Melba will be a vibrant destination in this booming city. I am also delighted that with this restaurant, and with Melba and Marc as partners, for whom I work for the first time in this wonderful city."
"It's been a very long time since a great new restaurant has come to Newark and I can't think of anyone better to do it than Melba Wilson," Mr Berson said.
---
Fidelco Realty Group is an owner-developer of residential, commercial and industrial properties primarily located in New York, New Jersey, Florida and Ohio. For more than 45 years, Fidelco has been an active investor in properties in need of rehabilitation, repositioning and/or environmental rehabilitation, restoring these properties for the benefit of local communities. Recognized for its diverse portfolio of properties, Fidelco has been a leader in redevelopment as well as new construction projects, those completed or under development encompassing millions of square feet of properties.
Focusing on Newark, Fidelco renovated the 400,000 square foot 1 Washington Park office tower and worked hand-in-hand with Rutgers University to build a world-class business school located in the skyscraper. Additionally, Fidelco has developed award-winning projects such as the office complex and parking garage at 494 Broad Street in Newark, Audible.com's Cathedral of Innovation headquarters, and the state-of-the-art 140-meter FreezPak Cold Storage Warehouse. 000 square feet in Elizabeth/Newark.
---
Melba Wilson is the proud and sole owner of two Harlem-based businesses: Melba's Restaurant and Melba's Catering. Additionally, she is a partner in the new Wollman Rink in the heart of Central Park and a recently announced project in Newark, NJ. Being born, raised, and buttered in Harlem, Melba knew she wanted to stay close to home so she could nurture and provide an exquisite yet comfortable dining experience for the community that raised her. Every day you can find Melba greeting guests (including neighbors and global celebrities such as Prince Harry and Meghan Markle, Zendaya and Tom Holland) with hugs, her signature smile and asking her customers if there has something she can do to improve their dining experience.
Outside of the kitchen, Melba is an accomplished author, philanthropist, and notable TV personality. In 2016, she published her first cookbook, Melba's American Comfort: 100 Recipes from My Heart to Your Kitchen. Melba is a board member of City Harvest, Opportunity Charter School, NYC & Company and God's Love We Deliver. She is also the chair of the New York City Hospitality Alliance and co-chair of New York City Mayor Eric Adam's COVID-19 Recovery Roundtable and Health Equity Task Force. Melba regularly appears on national news and on talk shows such as Live with Kelly and Ryan, Good Morning America, 60 Minutes, The View, Today and CBS Mornings.
---
Based in New York with offices in Los Angeles and Madrid, Rockwell Group is an interdisciplinary architecture and design firm that emphasizes innovation and thought leadership in every project. Founded by David Rockwell, FAIA, and led by David and his partners Shawn Sullivan and Greg Keffer, the 250-person company merges performance and architecture to create extraordinary experiences and built environments around the world. Inspired by theater, technology and high-end craftsmanship, the company creates a unique narrative for every project, from restaurants and hotels to cultural and educational institutions, airport terminals, festivals, museum exhibits and Broadway sets. Projects include Somewhere Else (The Beach at Atlantis); the FUTURES exhibit at the Smithsonian's Arts and Industries Building (Washington, DC); Nobu hotels and restaurants worldwide; Moxy Hotels (Times Square, Chelsea, East Village and South Beach); W Hotels worldwide; The Perelman, a new arts center in New York (Restaurant and Lobby Interior Architect); the 93rd Academy Awards; and the DineOut NYC and OpenStage NYC pro-bono projects. David Rockwell's latest book, DRAMA, was published by Phaidon in May 2021. Honors and recognition include the 2016 Tony Award for Best Scenic Design for She Loves Me; two Emmy Awards for Production Design for the Oscars (2021 and 2010) the AIANY President's Award; the Cooper Hewitt National Design Award; and the Presidential Design Award.
Advertise with New Jersey Stage for $50-$100 per month, click here for more info
---